Alaska is the largest state in America—yes, it's bigger than Texas. For travelers, this means there are tons of opportunities to see wildlife, stop in funky towns, meet new people and enjoy fantastic views.
It also means it can be hard to get around this vast state. Do you need to rent a car in Alaska? Well, it's up to you!
Getting around Alaska without a car
The Alaska Railroad and the Park Connector bus service make it simple to get between the major sites in Alaska. Both have regular schedules, and riding these options means you can sit back, relax and enjoy the view—leaving the driving to someone else!
When is it right to rent a car in Alaska?
Many people opt to rent a car, especially if you're not going the tour bus route. Having a vehicle allows you to take side trips, and to stop when and where you want. It also means you can explore beyond the "rail belt" between Fairbanks and Seward. And particularly during shoulder season (like March when the Iditarod is on or if you're chasing Gray Whales at Resurrection Bay in the spring or the Northern Lights in late fall), you'll have more flexibility with your schedule.
But keep in mind that it's more expensive to rent a car in Alaska than other places, due to demand. It's like Hawaii, where everyone shows up car-less! Then what? Read on for car rental hacks that make it work.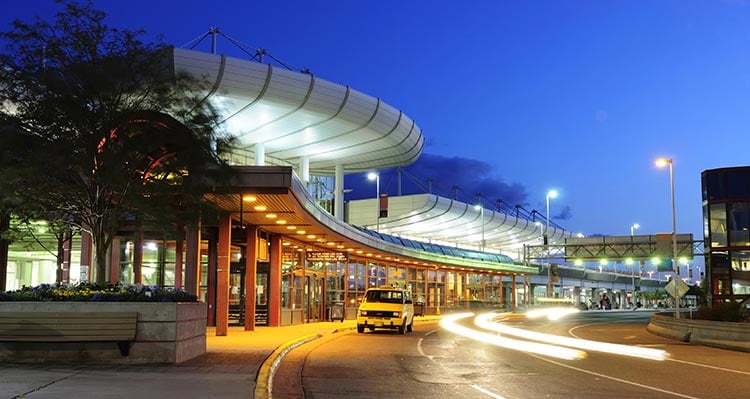 Tips for cutting the cost of a rental car in Alaska
Try to rent and return at the same spot.
Plan your route ahead of time to save on gas.
Ask locals for cheap gas locations—the rental crew always has a few ideas.
Stop in towns to fill up, since remote gas can be exorbitantly expensive.
Leverage rental car coverage from your credit card. Usually, you don't need to add it from the agency.
Ways to save some easy cash in Alaska
With some airlines, like Alaska Airlines, you can earn more miles by booking a car rental through their website.
Visit in May or September for major savings on rentals (and maybe seeing the northern lights!).
Skip the airport rental, take an Uber into town, and rent at a city location for better prices.
Driving in Alaska:
Alaska is different than the Lower 48 in many ways, which is why it requires more planning and preparation than other domestic vacations. When you're driving throughout the state, you'll need to keep a few things in mind that are different than cruising down I-10 (or whatever your home highway is).
Watch for wildlife! For real though—wildlife in Alaska means bears, moose and caribou can cross the road anywhere. Be alert!
Get off the beaten path. Take advantage of your rental car independence and head off the main highways to fun side towns.

Insider tip: when driving from Anchorage to Seward, check out the town of Hope, Alaska.

Give yourself extra time and be extra alert—road construction, side of the road camping and eager fishermen are common sources for extra traffic and delays. Things are far away here—we're talking distance like you have not experienced before. Plus, with no interstates in Alaska, the speed limits are generally 55 miles an hour or less. Take it slow!
Prepare for long rides. Bring car snacks, water, podcasts (remember cell service can be spotty!), and a map.
Make sure you can actually go—some areas are so remote, roads may be inaccessible. Look into local updates before heading out.
Planning to get off the beaten path? Make sure your rental car agreement allows for travel to your intended destination. Travel on some Alaska popular roads are not permitted by most carriers (this includes the Dalton Highway, road to McCarthy, and sections of the Denali Highway).
Do as the locals do and have a map! While cell phone coverage is pretty dependable around major towns and cities, there are long stretches where you won't have coverage. Most Alaskans have a copy of the Milepost book in their back seat, just in case. This is a mile-by-mile guide of all of Alaska's roadways.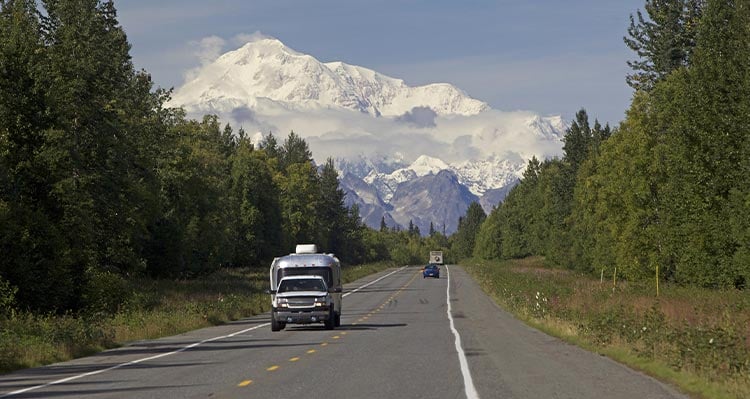 Where to Go:
A favorite route is from Fairbanks to Denali National Park (of course), with a stop at the Husky Homestead dog kennel near the park entrance. Take a break from driving and jump on the Denali Backcountry Adventure bus to explore the park (only buses are allowed to drive the road in the park). Or, from Anchorage, drive south to the quaint town of Seward for a boat tour through Kenai Fjords National Park. Plan enough days in your trip to enjoy this wild place!
Help sorting it all out
For insider's advice on what to do, where to go and precisely how to get there, contact the Alaska experts at 1.800.808.8068. They'll help you figure out exactly the best option for you. See you soon in Alaska!